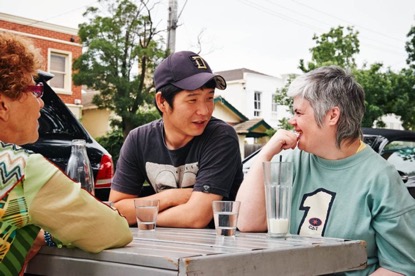 The inside story: how to get a job at Inclusion Melbourne
Article content
Ever wondered what hiring managers are looking for when they recruit for Australia's most sought-after NFPs?
In this series on the Ethical Jobs Blog, we interview the people who hire at the organisations where you want to work – and we'll give you the inside knowledge you need to make your next job application amazing.
This month we speak to Kathy Lewer, Human Resources Manager at Inclusion Melbourne. The organisation dates back to the late 1940s when a group of revolutionary parents came together to find an alternative to the institutional care for people with an intellectual disability that was the only option being offered at the time.
Today Inclusion Melbourne employs around 85 staff and provides a range of personalised services to more than 120 adults in the areas of support coordination, direct support, community visitation, volunteering and specialities in learning and training courses.
Hi Kathy – thanks for chatting with us! To kick us off, can you tell us a bit about what Inclusion Melbourne really does?
We assist people with an intellectual disability to create highly individualised and flexible lifestyles based on their needs & interests. We provide opportunities for people to:
Build an Identity as a valued member of the community
Develop friendships & relationships
Engage if further learning and study
Make connections in their local community
Have support to participate in their community
It is all about having a 'good life'.
We provide a range of personalised services in the areas of support coordination, direct support, community visitation, volunteering and specialities in learning and training courses. The organisation also actively participates in practice research, policy development and innovative project work through the Inclusion Designlab.
So can you walk us through the recruitment process at Inclusion Melbourne?
The recruitment process commences with candidates completing an on-line application form. Following the closing date, all applications are forwarded to the relevant manager for shortlisting. Successful candidates are invited for an interview, usually within a few days of the closing date.
Interviews take approximately 45 minutes to an hour and draw on behavioural-based interviewing techniques.
Prospective candidates need to undergo a series of safety screening checks before appointment. Safety screening includes a National Police History Check, proof of identity, a check of employment history and a Disability Worker Exclusion Scheme check.
What are the top things you look for when assessing a candidate's application?
It's important that the application addresses the key selection criteria and other attributes outlined in the job ad. If supplied we would assess specific examples of work they have done, contributions to a process and/or an outcome.
Our model is based on relationships and shared goals, aspirations and a vision of a good life for the people we support. It is therefore important that candidates align with our mission and values. We believe we can provide on the job training and coaching to meet other requirements of the role. Our online application form elicits information that may also assist us in determining whether a candidate aligns with our values.
What are some of the most common mistakes candidates make?
We receive a significant amount of applications that only supply a covering letter and a CV rather than following the process outlined in the advertisement. We also receive CVs and letters that are generic and not related specifically to the position available.
Who is a candidate most likely to meet at an interview panel at Inclusion Melbourne?
Candidates will be interviewed by two or three staff members from the relevant business unit. The interview panel usually includes the manager or supervisor, and a member of the team who holds a similar role to the vacant position. The HR Manager may also form part of the interview panel.
What advice would you give candidates to improve their interview skills?
Candidates should prepare for a structured interview, based on questions relating to the key selection criteria usually contained in the position description.
They should prepare for the interview by considering their responses to the key selection criteria outlined in their application.
Candidates should as a minimum, prepare responses to the following common selection criteria: communication skills, time management skills, attention to detail, customer focus, teamwork and it is highly likely that there will be a question around conflict in the workplace!
What roles are generally the hardest to fill at Inclusion Melbourne?
Sourcing experienced NDIS Support Coordinators is proving to be difficult in the current environment. The community services sector has grown steadily since 2013 and as a consequence the industry is facing significant skill shortages. The growth has been consistent due to changes in the aged and disability care sector. The implementation of the NDIS has certainly had an impact in our ability to source candidates with experience in the disability field.
Finally, what advice would you give to someone who wants to work at Inclusion Melbourne but perhaps doesn't have the right qualifications or experience?
We are keen to employ people who resonate with our values and who have a genuine interest in what we do. We would encourage candidates to apply for direct support roles even if they do not have qualifications or experience. We believe we can provide the necessary skills and training.
We also offer opportunities for people wanting to obtain qualifications for working in the disability sector through our Registered Training Organisation. The Certificate III in Individual Support (Disability) is free. We would also encourage people to visit our website to enquire about volunteering opportunities – not only will this make a difference to someone's life but it would complement their own life and explore new career possibilities, as well as enhancing their CV.
Thanks Kathy!
Other posts you may be interested in: